the Dave McKenzie Gaellery

Page 2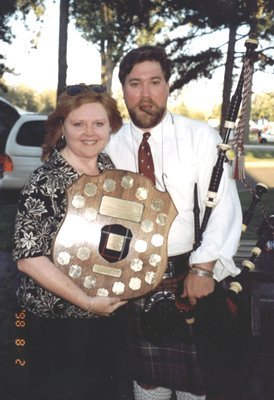 Fresh from the field with Cuban cigar ready for lighting; celebrating the Grandfather Mountain Highlanders' 2nd Canadian victory at the Montreal Highland Games in 1998 with my wife, Trudy (who's usually taking the pictures instead of being in them!) with the brand new Clan MacKenzie Memorial Trophy! We got to be the first band whose name was added to the perpetual trophy.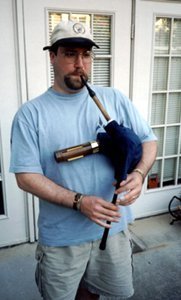 Test driving my new set of John Walsh's shuttle pipes on a spring afternoon on my back porch. They are every piper's dream come true for a nice alternative to the big, loud Highland Bagpipe for a quieter or more intimate setting. They are so neighbor friendly and a great practice tool not to mention that one's endurance is ten times longer on them than the Highland Bagpipe!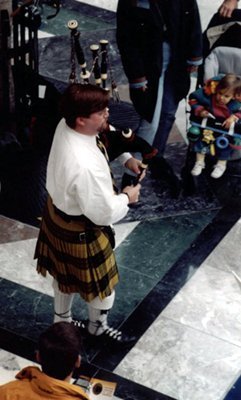 This is kind of an interesting overhead shot of a piper. Playing for our local "Scottish Bank" in Founder's Hall at the Bank of America Plaza in Uptown Charlotte. For those of you who might wonder, I have some MacLeod ancestry, hence the kilt.
All images ©copyright by their respective owners and used by permission only.