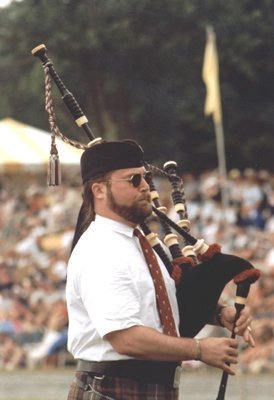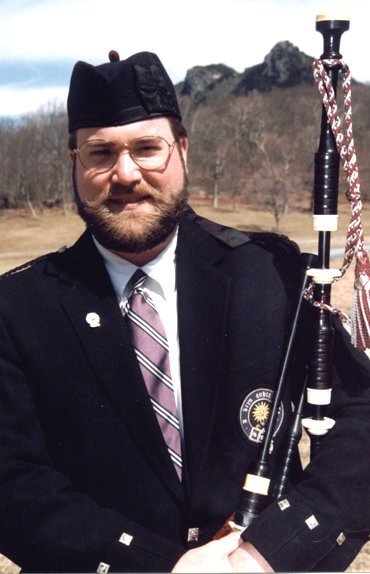 Dave McKenzie
resume
Dave is a graduate of the University of North Carolina at Chapel Hill with a Bachelor of Arts degree in Russian and RTVMP( Radio, Television and Motion pictures)
_______________________
Grandfather Mountain Highlanders Pipe Band
1984-89, 1990-92, 1996-Present
Dave plays in the point position between the drum corps and the pipe corps in the competition circle and has graduated to the front rank in the band's marching formation. He was also involved in the recording of the band's self-titled first album, and is called upon to play as a soloist to feature more unusual and difficult music and to demonstrate the various styles of piping at concerts and other public performances. As a soloist, Dave competes in Grade I (the top amateur level) at Highland Games in North America and Scotland, consistently winning or placing in the prize list. He is a member in good standing with the Eastern United States Pipe Band Association, The Southern United States Pipe Band Association, and the Pipers' and Pipe Band Society of Ontario, Canada.
Graduate of the North American Academy of Piping and Drumming having studied under pipe Major Sandy Jones for Ceol Beag or light music and Pipe Major Hamilton MacIntyre Workman for Ceol Mor or Piobaireachd, the classical music of the Highland warpipe.

Attended classes and workshops conducted by world class players Alastair Gillies, Jimmy MacIntosh, Bob Worrall, Jim MacGillivray and Colin MacLellan for piobaireachd and light music.

Finished in the prize list for Grade III band competition at the North American Pipe Band Championships in Maxville, Ont., Canada, 1996, 1997 and 1998

First place in Grade III band competition at the Canadian Championship in Montreal, Que., Canada, 1996 and 1998, the first southern pipe band to do so.

Former and current holders of the Carolinas', Southern, and East Coast Championships in the EUSPBA.

Went undefeated in Grade II band competition in 1986 to finish in first place in the rankings of the EUSPBA to ultimately challenge Grade I, a record yet to be broken.

Opened for Rod Stewart at Blockbuster Pavilion on his 1990-91 world tour.

1992-Present
Dave is a founding member of this band, who's philosophy has always been to use traditional instruments, tunes, and styles as a foundation to cross over and blend contemporary instruments and styles from rock 'n' roll, jazz, blues, Caribbean and bluegrass to create our own kind of world music or "new folk", effectively blurring the dividing lines between the various genres and cultural traditions. In addition to warpipes, he also plays shuttle pipes, a smaller, quieter bagpipe recently developed in Canada. Dave has also added electric bagpipes, tin whistle, the Australian Aboriginal Didgeridoo (the world's oldest wind instrument), and the Japanese Shakuhachi, an end-blown bamboo flute, to his arsenal of instruments. He sings backup in Gaelic songs and in English, and arranges traditional pipe music for the band's repertoire, having composed many original tunes for their new material.
Voted Best New Music Trend in Creative Loafing's Best of Charlotte Poll in 1993.

First Place winner in the Charlotte Folk Music Society's annual festival and competition in 1993.

Opened for Rod Stewart and the Moody Blues at Blockbuster Pavilion 1993-94.

Headline act at the Black Mountain Folk Festival twice annually 1994-95

Headline act at "Be Here Now" in Asheville, North Carolina, three times between 1994-95.

Headline act at Double Door Inn twice between 1994-95.

Headline act at River Place festivals in Greenville, SC; Eno River festivals in Durham, NC and St. Patrick's Day festivals in Charlotte, NC between 1994-96.

Headline Act at the Grandfather Mountain Highland Games' Gaelic Mod 2002.
Charlotte Caledonian Pipe Band
1981-1984
The pipe band where Dave had his first competition experiences and formative lessons from his mentor and 1st Pipe Major, Burt Mitchell.
Performances
General
Schools/Educational Performances
Spirit Square – Celtic Celebration – Music Day for Charlotte/ Mecklenberg Students

Northwest School of the Arts

Randolph Middle School

McClintock Middle School

Marie G. Davis Middle School

Huntersville Elementary School
Memorial Services/Funerals
Firefighter Josh Early ( see photo in the Gaellery section of Dave's site)

Police Officer Gene Griffin

Police Officer Andy Nobles

Police Officer John Burnette

Bill Dollar - WSOC-FM Radio Personality

Fountain Odom, Sr.

John B. Stedman, Sr.

Memorial for the Queen Mother (for the Charlotte Office of the British Consulate)

September 11 Memorial